Print Your Own
Hero Card
Desktop Wallpaper

sponsor sites:
Lycos.com
Indy Racing League


Welcome to the official John Hollansworth, Jr. racing website. Here you will find news and information about John, TeamXtreme and the Indy Racing League 2000 race series. Check back often for the latest information.

January 19, 2000
We're Back and We're Ready for 2000
For our first report on the 2000 season, John and TeamXtreme are in Orlando testing the new G-Force chassis in preparation for the first race of the season. We expect to have lots of thoughts and news from John as the season progresses. So, without further delay, here is John's first report of the year.
"TeamXtreme has undergone significant changes in the off season. These changes include the decision to run a second team/driver (Airton Dare), changing to the G-Force chassis, hiring of crew chief John King, and several other changes which we believe will raise the level of our game for the 2000 season. Pre-season testing has shown the G-Force Brayton engine combination to be fast, and we look forward to continue to develop the package. General Manager John Lopes and the ownership of TeamXtreme have worked tirelessly in the off season to apply what we learned last year in formulating a strategy that will give us the most probability for success in the 2000 season.

We are very pleased to continue our relationship with Lycos this year, and we look forward to working with Lycos both on and off track to show the everyone why they are one of the most visited web sites on the Internet. "LYCOSHOP" is a recent addition to the Lycos experience that makes online shopping a breeze.

Our prayers are certainly with Sam Schmidt at this time - we all are in hopes that his doctors are able to make additional progress with respect to his medical condition.

All in all, the 2000 Indy Racing Season looks to be the most exciting season in IRL history, and TeamXtreme plans to be a significant part of that excitement!"
November 11, 1999
Live TV Coverage Of All 10 Events In 2000
The Pep Boys Indy Racing League has announced all 10 races in 2000 will have television coverage on either ABC or ESPN. You can read more on this story at the official Pep Boys Indy Racing League site.
More News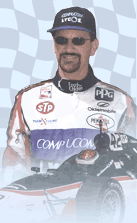 John Hollansworth, Jr.
After steadily maneuvering through many different kinds of race traffic, Dallas' John Hollansworth, Jr. has achieved his dream, driving an open wheel, 200+ mile per hour Indy Race Car. The Lycos car carries the same #42 his father, John, Sr., carried on his Indy style race car in the 1960s. An attorney by training, John achieved a life long goal by participating in the 1999 Indianapolis 500.


Father's Dream Comes Full Circle in Rookie John Hollansworth, Jr.